Date: April 19, 2018
Time: 8:00 AM – 4:30 PM
Venue: Dusit Thani Manila, 1223 Epifanio de los Santos Ave, Makati

nabling globally competitive,ict-enabled government to facilitate good governance,strengthen accountability, increase transparency and improve operational efficiency to deliver quality services and make information available to the people
The Government of the Philippines is rallying to create the necessary backend to provide integrated transactional services on the National Government Portal. To do this, the Government is embarking on a mission to create appropriate technology for government-to-government, government-to-citizen, government to business and secondly, ensuring that this technology is accessible to all citizens.
Open government defined as the intersection of accountable public officials, transparent government, and participative civil society, will play a critical role in this process.
Department of Information and Communications (DICT) are driving some key projects to create an open government providing relevant and useful services to citizens.
First is the E-Government Master Plan (EGMP), the roadmap to create an efficient, technology-driven government.
A successful EGMP will enable the availability of efficient services for all Filipinos, a government that talks to and collaborates within itself and a healthy environment for businesses to succeed.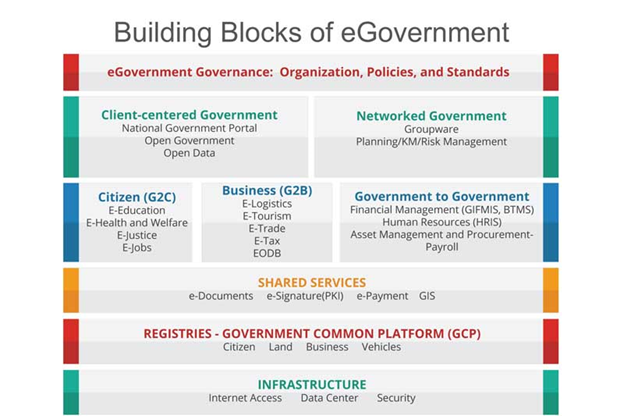 Image credit: DICT Philippines
Within the EGMP there are several projects and among them four key projects are:
National Broadband Plan (NBP), Free public Wi-Fi, The National Government Portal, Tech4ED.
NBP
The NBP is the government's master plan to accelerate the deployment of fibre optic cables and wireless technologies to improve Internet speed, reduce the cost and make it more affordable and ensure access even to those areas that are not attractive for private telecom companies to deploy services to.
The NBP highlights importance of access to information as a building block for economic growth. Efficient allocation and management of assets, and reform of existing laws, policies and standards to maximise benefits of broadband in all sectors of the nation. Priority is given to the last mile connectivity.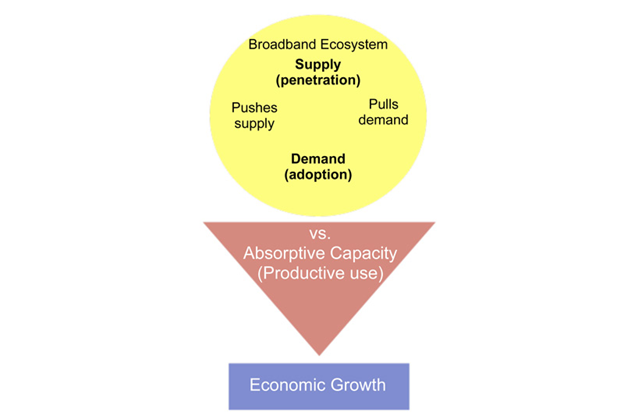 Image credit: DICT Philippines
Free public Wi-Fi
This is an "Internet for All" project that will provide internet connectivity in public places across the country. The free public Wi-Fi project will allow DICT to service nearly 13000 sites in all municipalities and cities of the country. Since starting last year, there are 250 sites installed (including national government agencies, local government units, public schools, rural health units, public libraries, public plazas and parks) serving 220,000 public devices with 25000 users daily on these sites.
National Government Portal
The National Government Portal is meant to be the government's online, frontline desk. Its objective is to provide one-stop service, uniting all online government information and data, as well as providing a single platform for citizens to access government online services. The third aspect of this is to be able to provide the facility to submit petitions to government or to provide feedback.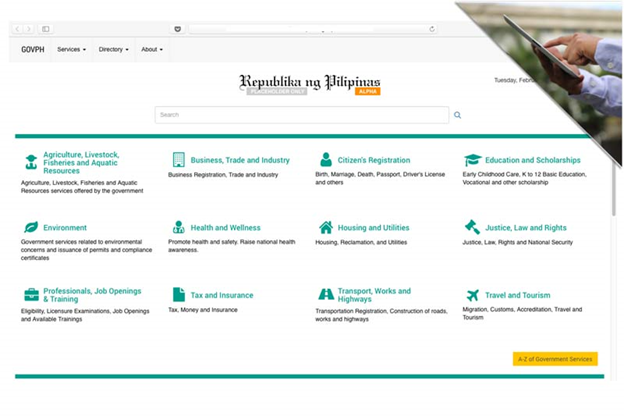 Tech4ED
Tech4ED or the Technology for Education, Employment, Entrepreneurs, and Economic Development Project aims to provide efficient delivery of government and other services, as well as a tool for employment and participation of underserved as well as unserved communities in development. The services on the platform are categorised into: eEduskills, which provides non-formal education and skills training through e-Learning on demand, eAssist which provides learning and continuous skills development opportunities for digital inclusion for special sectors such as women, People With Disabilities, senior citizens, Overseas Filipino Workers including their families and relatives, Career shifters, and teachers, eAgri for advanced farming technology for farmers and fishermen, eMarketPlace, which provides greater market reach beyond the entrepreneurs' community and eGovServ which provides a more convenient, direct access to various government services in rural communities.
OpenGov is pleased to bring the highly anticipated 2nd Annual Philippine OpenGov Leadership forum to be held on the 22nd March 2018.
Here, you will meet C-level government experts and industry professionals addressing the most important policy, management and leadership issues surrounding the future of digital government and the role of the public sector CIO.
Based on our conversations with senior officials from Philippine public sector, 2nd Annual Philippine OpenGov Forum Leadership is streamed along three digital Government tracks representing the different key challenges as the following:
You will gain access to innovative case studies and interactive discussions on:
Cyber Security, Predictive Analytics, Cloud, Mobility, Privacy, Smart and Sustainable Cities,Big Data, and Data Centers
through first-hand interactions with peers, luminaries, as well as, emerging and establishedorganisations.
The 2nd Annual Philippine OpenGov Leadership Forum serving as a full day of
valuable insights and networking opportunities plays an integral role in keeping the digital professionals
Connected, Educated, Engaged and Inspired.